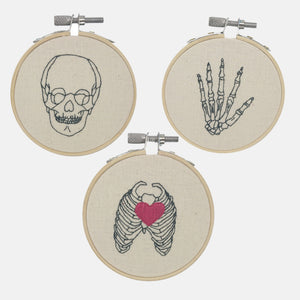 Beginner
Gift Box
The Anatomic Triptych, GIFT BOX Embroidery Kits (Skull, Hand Skeleton, Rib cage) & Goodies is designed by me and is suitable for beginners or more advanced embroiderers. The gift box is beautifully wrapped in a cardboard box, ready to be given as a gift. It comprises all you need to make 3 embroideries plus a few spooky Halloween goodies.
embroidery needles,

black and red embroidery floss,

calico (pattern printed over it),

3 embroidery hoops of 3 inches ( please note that they can slightly vary from the pictures),

thread snips (my fav),

3 good quality 3 inches wooden embroidery hoop. 

This hoop can also be used as a frame, and be painted or just left natural,

strong thread to finish the back of the embroidery with the drawstring method,
an

instructions sheet in English

with all the information you need,
a skeleton charm, a Vampira button and a fet needleminder and
a few funny goodies !
All three finished embroidery measure 3 inches in diameter.
---